The 10 best quick meals for long-term health and fitness!
These days, when it comes to cooking, there are three important benchmarks:
It has to be quick.
It has to be healthy.
It has to taste good.
Here are 10 recipes for dishes that more than satisfy all three of these criteria. Each recipe serves 2 people and takes about 15 to 20 minutes to make.
Russian Borscht Stew with Buckwheat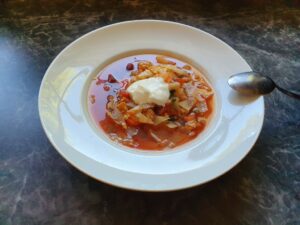 1 medium-sized head white cabbage
1 fresh red beet
1 large carrot
2 medium-sized tomatoes
1 thick slice celery root
½ a leek
2-3 large mushrooms or 1 handful chanterelle mushrooms
150 grams buckwheat grains
2 tablespoons vegetable broth powder
Olive oil
Parsley
Slice the vegetables and the mushrooms. Boil 1 liter of water and add the vegetable broth powder to dissolve. Add the sliced vegetables, mushrooms, and buckwheat grains. Cook for 10 minutes at low heat. Finish with a generous dash of olive oil and a handful of chopped parsley.
Serve with a spoonful of hummus and/or sour cream.
Fish fillet (for example, smoked mackerel, as shown here) with Fried Pimientos and Blue Cheese Porridge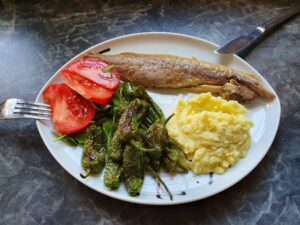 1 smoked mackerel

Alternative: use salmon or any other fish you prefer, season with salt, pepper, a tablespoon of olive oil, and a few drops of balsamic vinegar, then bake in foil for 20 minutes at 185 °

1 bag of green pimientos (a.k.a. pimientos de padron)
2 or 3 potatoes
50 grams of blue cheese
100 milliliters milk
Salt, pepper, and olive or rapeseed oil for sautéing
Fresh tomato slices for garnish
Remove the skin and bones from the mackerel. Fry the pimientos in oil with salt and pepper. Boil the potatoes in salted water, drain ¾ of the water, add the blue cheese and milk, and mash together with a fork or a potato masher.
Serve with a few slices of fresh tomato.
Vegetable Pancakes with Herb Quark, Hummus, and Mixed Green Salad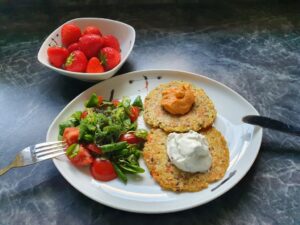 Vegetable pancakes (or potato pancakes), hummus, and herb quark from the deli counter at your favorite supermarket
Salad ingredients: organic mâche greens (a.k.a. lamb's lettuce), ½ cucumber, 2 tomatoes, green onion
2 tablespoons olive, sunflower, or MCT oil
1 tablespoon balsamic vinegar
Salt and pepper
Warm the vegetable pancakes in the oven at 180°C for 15 minutes. Combine the greens with the chopped cucumber, tomato, green onion, salt, pepper, oil, and vinegar.
Remove the vegetable pancakes from the oven, place on large plate, top with herb quark and hummus, and serve with salad on the side.
The Classic: Fried Potatoes with Eggs Sunny-Side-Up and Fresh Sauerkraut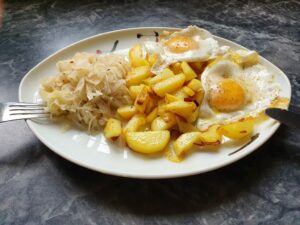 2 or 3 new potatoes
Organic eggs
150 grams fresh sauerkraut per person (barrel-cured is best)
1 or 2 green onions, chopped
Seasoned salt and pepper
1 tablespoon maple syrup
Caraway seeds
1 tablespoon flaxseed or sunflower oil
Rapeseed or olive oil for frying
Peel potatoes and slice them as you prefer. Place potatoes in a skillet with olive or rapeseed oil and chopped green onion and brown for 7-10 minutes. While the potatoes are cooking, combine the maple syrup, a pinch of caraway seeds, and flaxseed oil with the sauerkraut. Place the fried potatoes on a large plate with the sauerkraut on the side. Cook the eggs in the same skillet you used to fry the potatoes, sprinkling them with seasoned salt. Lay the eggs atop the fried potatoes and serve.
Red Lentil-Vegetable Soup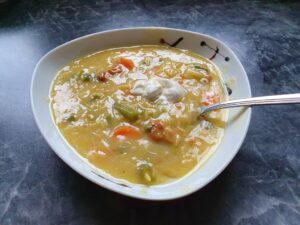 500 milliliters organic vegetable broth
200 grams red lentils
50 grams fresh ginger
100 grams chanterelle or porcini mushrooms
200 grams broccoli, green asparagus, or another favorite vegetable
1 bunch of "soup vegetables" (1 rib celery or 1 piece of celery root, 1 leek, 1 handful curly parsley, and 1 carrot, as needed)
2 tablespoons olive or MCT oil
Parsley
Bring the vegetable broth to a boil. Rinse the lentils and add them to the broth. Grate the ginger directly into the broth. Wash and chop the mushrooms and vegetables, and add them to the pot. Cook for 10 minutes. Finish with oil and a handful of parsley.
Serve the soup with a spoonful of sour cream.
Tortellini with Jumbo Shrimp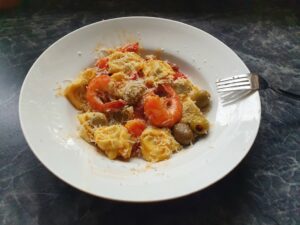 1 package fresh tortellini pasta
400 grams jumbo shrimp
1 green onion, chopped
2-3 cloves garlic
2 medium-sized tomatoes
4-5 marinated sun-dried tomatoes
100 grams whole green olives
1 chili pepper
1 tablespoon organic vegetable broth powder
30 grams of Parmesan cheese
Olive or rapeseed oil for sautéing
Add shrimp, vegetable broth powder, chopped green onions, olives, and chili to a wok and sauté in olive oil. Meanwhile, chop the garlic, sun-dried tomatoes, and fresh tomatoes. Bring a large pot of water to a boil, add salt, and add tortellini, cooking for about 4 minutes. Drain the pasta. When the shrimp are red and cooked through, add the rest of the chopped vegetables to the wok, and cook, stirring frequently, for about 3 minutes. Add the drained tortellini to the wok and stir to combine.
Serve in pasta bowls and garnish with freshly grated Parmesan.
Mixed Green Salad with Seaweed and Tofu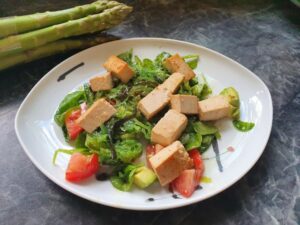 250 grams mâche greens (a.k.a. lamb's lettuce)
2 or 3 medium-sized tomatoes
1 cucumber
1 ripe avocado
1 green onion
Seaweed salad from the deli counter
Your favorite salad dressing
200 grams firm tofu
50 milliliters soy sauce
Rapeseed oil for sautéing
Cut tofu in to large pieces and marinate for 10 minutes in soy sauce. Chop the salad ingredients and combine with the dressing. Serve on two large plates, spooning the seaweed salad over the top. Heat oil in a wok and cook the soy sauce-marinated tofu until well browned.
Arrange the browned tofu pieces over the salad and serve.
Kefir-Spelt Pancakes with Cottage Cheese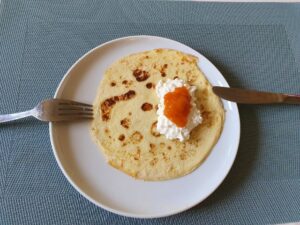 250 milliliters kefir
2 eggs
4 heaping tablespoons spelt flour
Cottage cheese
1 container fresh raspberries
1 tablespoon honey
Flaxseeds (about 1 tablespoon)
A pinch of salt
Butter, plus oil for cooking
Preheat oven to approximately 70°C. Combine the kefir, eggs, and spelt flour, and add a pinch of salt. In a small pan, fry the pancakes in a little oil, brush them with butter, and place them in the preheated oven on a plate to keep warm. In a bowl, smash the raspberries and combine them with honey and flaxseeds.
Serve the pancakes with cottage cheese and garnish with spoonfuls of the raspberry mixture.
Pasta with Stir-fried Zucchini and Mozzarella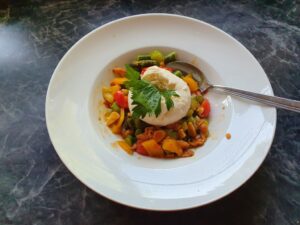 2 small zucchini
1 green onion
½ red bell pepper
100 grams of your favorite mushroom
2 medium-sized tomatoes
1 clove garlic
1 tablespoon organic vegetable broth powder
2 large balls of fresh mozzarella
30 grams Parmesan cheese
Oil for sautéing
Freshly ground pepper
Tagliatelle noodles for two
Cook the pasta in boiling salted water according to the package directions. Drain. Chop the vegetables, mushrooms, tomato, and garlic and sauté in a large skillet with oil, vegetable broth powder, and ground pepper. Add the cooked, drained pasta to the skillet and stir well to combine.
Divide into two pasta bowls, top each with a ball of mozzarella, and sprinkle with freshly grated Parmesan.
Sautéed Vegetables with Chicken Strips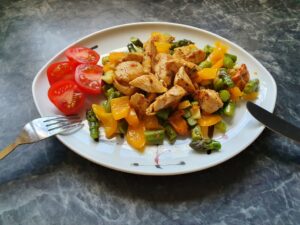 300 grams boneless, skinless chicken breast
300 grams green asparagus (or another favorite vegetable)
Green onion
1 yellow bell pepper
1 rib celery
1 clove garlic
2 tablespoons olive oil
Balsamic vinegar, approximately 1 tablespoon
1 tablespoon organic vegetable broth powder
1 medium-sized tomato
Marinate chicken breast in 2 tablespoons of olive oil, 1 tablespoon of balsamic vinegar, and salt and pepper to taste for 1 hour. After marinating, cut chicken breast into strips.
Chop the asparagus (or other vegetable), green onion, yellow bell pepper, celery, and garlic and sauté in olive oil for 5-7 minutes. Divide the vegetables between two plates. While the pan is still hot, brown the chicken strips for 3-4 minutes over high heat. Place the browned chicken strips on top of the vegetables. Garnish with slices of fresh tomato.
Voilà.
Bon Appétit!